Whether your business is in its early stages, at the peak of productivity, or even transitioning, you will always need a good support system to back it up. Proper customer care is what holds your venture together, it enforces legitimacy and integrity, and how you set up your support can be crucial for your overall success.
Enter Almighty Support: a lightweight and well-rounded support platform for WordPress. Almighty Support is primarily designed to bring order and ease of use to your support dynamic. It provides an abundance of useful features that integrate with any WordPress site. Get the plugin, activate and settle with a wonderful ticketing system that you'll quickly come to love.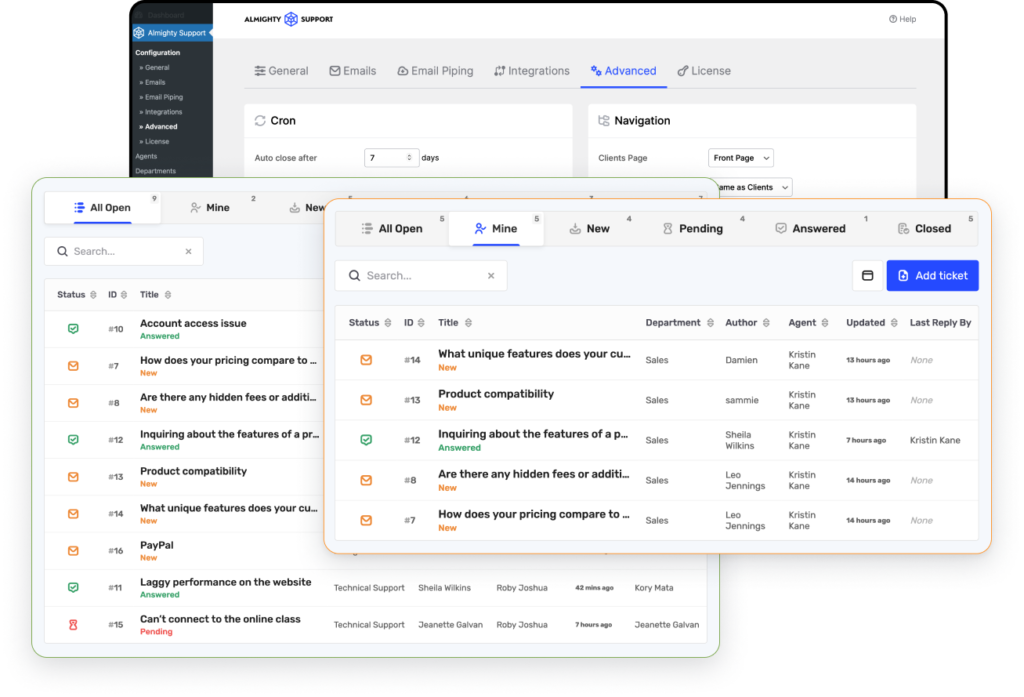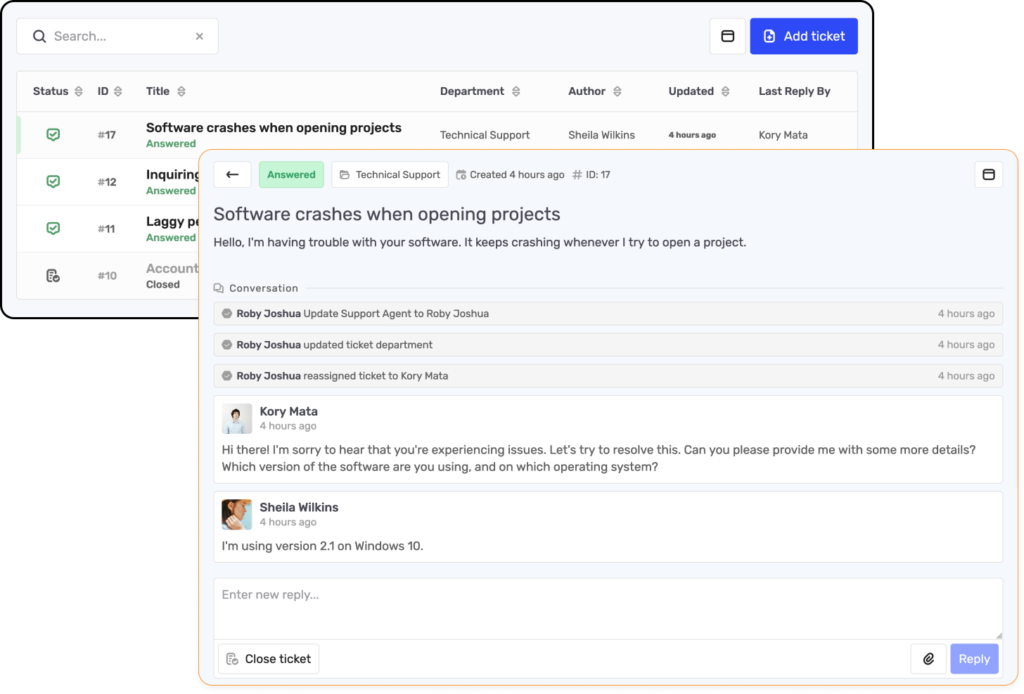 Client Focus
Almighty Support provides an on-site ticketing system that allows users to easily post their queries and track their handling. Cleanly designed interface ensures that the user won't ever be confused about their input, the response they get, and generally the entire support process. Of course, you can name your support page however you like and place it in the menu of your choosing.
This solution is primarily meant to be user-friendly and highly functional in any situation that pertains to resolving issues. Clients will see the status of their query on the site, and also be notified via email. They can freely choose where to respond. If they engage via email, the ticket on the site will update accordingly. Transparency is sacred and nothing ever gets lost.
Departments
The plugin features three default support departments which you are at liberty to use: Sales, Billing and Technical Support. You can also edit or remove any or all of these departments and create your own, as many as you want.
Departments are provided for convenience and for easier management of tickets. Your clients are not required to choose a department when submitting a ticket, but having a clear choice can greatly help with their handling.
If a client has purchased a software component and they're having trouble setting it up, they will know to turn to the Technical Support department. If your online store features physical products, you can open a Shipping Support department, or however you wish to name it. Helping customers focus on a particular aspect of the purchase will bring order to all transactions.
Departments are easily set up in the backend and you can adjust, add or remove them whenever you wish.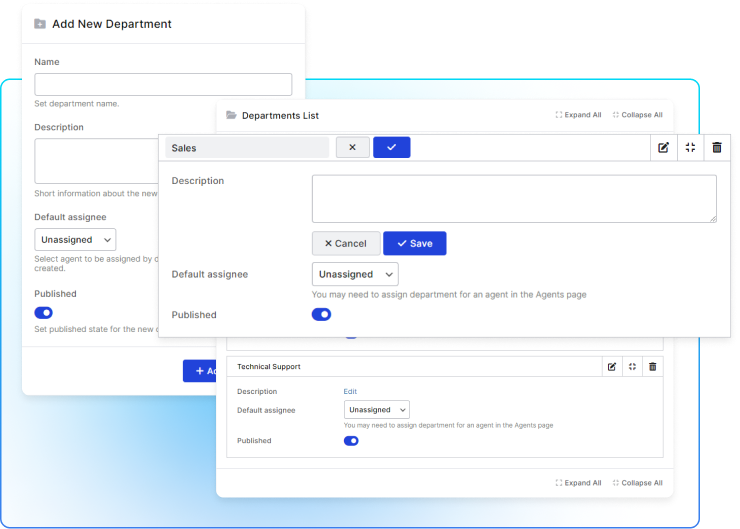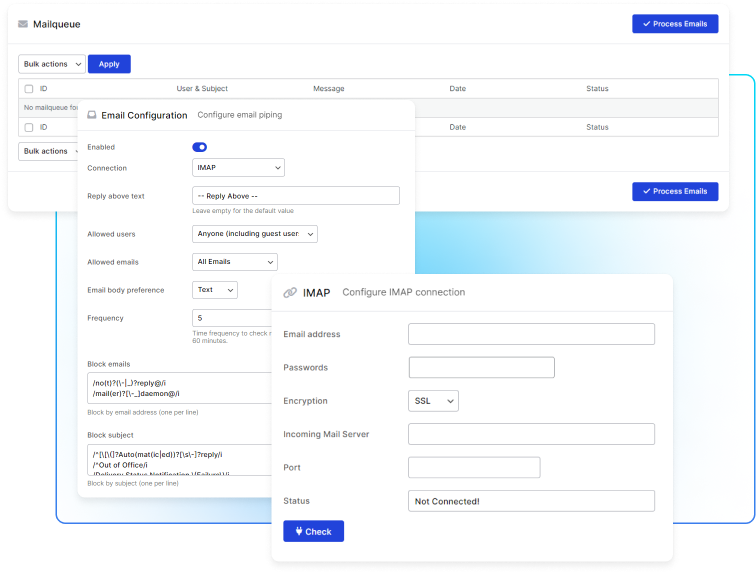 'Defusing' the Inbox
The time when users were provided with just an email address for the purpose of support is long gone – or at least it should be. This inefficient way of communicating with customers brings nothing but inbox chaos: clutter, response lateness, and many incoming emails can even be overlooked.
The intuitive ticketing system that Almighty Support features is integrated with your emailing system, and you always have full insight into its functioning. Set up the details of your Email in plugin Configuration: sender specifics, notification intensity and templates for each type of response. Notification intensity can be especially useful depending on the frequency of tickets; by default, it's set to Real Time – all enabled email notifications will be sent out immediately.
If you choose so, you can even override the entire email setup with your desired HTML. For advanced use, you can also configure Email Piping to suit your preferred type of connection (IMAP, Gmail, Microsoft Exchange).
Agents at Their Best
Almighty Support introduces maximized functionality for your support agents as much as it brings ease of use for the clients. Order and notifications are the primary factors which enable support agents to do their job efficiently.
In the plugin backend, you can assign your chosen staff members with the role of an Agent or a Manager.
Agents are assigned to one specific department or more, so their focus remains only on the tickets they are meant to handle. On the frontend, they have a designated tab for the tickets submitted under their department, which eliminates distraction and speeds up their work.
Managers oversee all departments and coordinate the work of agents, while being able to provide customer support themselves. As an example, if a customer's query is very complex or confusing, the agent might seek assistance from the manager. The manager can then provide valuable answers, or even take over the ticket in case the agent has their hands full with other clients.
It is useful to assign your agents and managers according to their level of knowledge about your products. The functionality of the plugin itself will only capitalize on their cooperation and smooth work dynamic.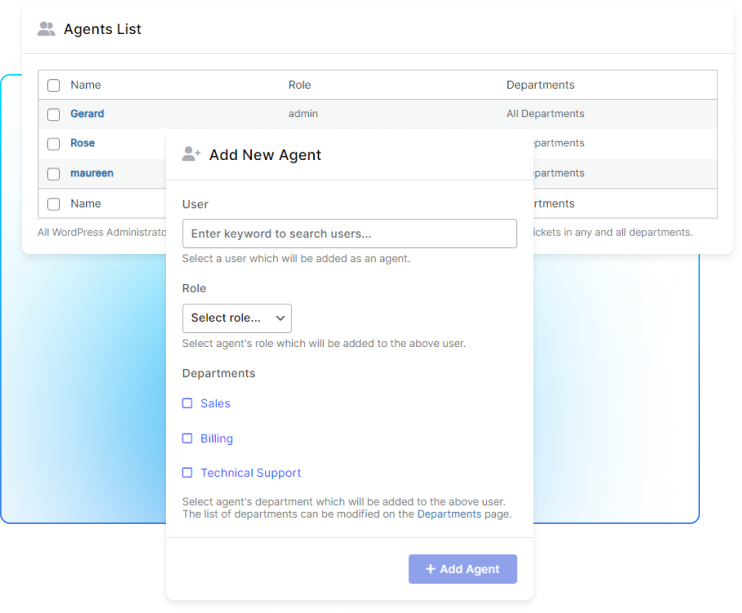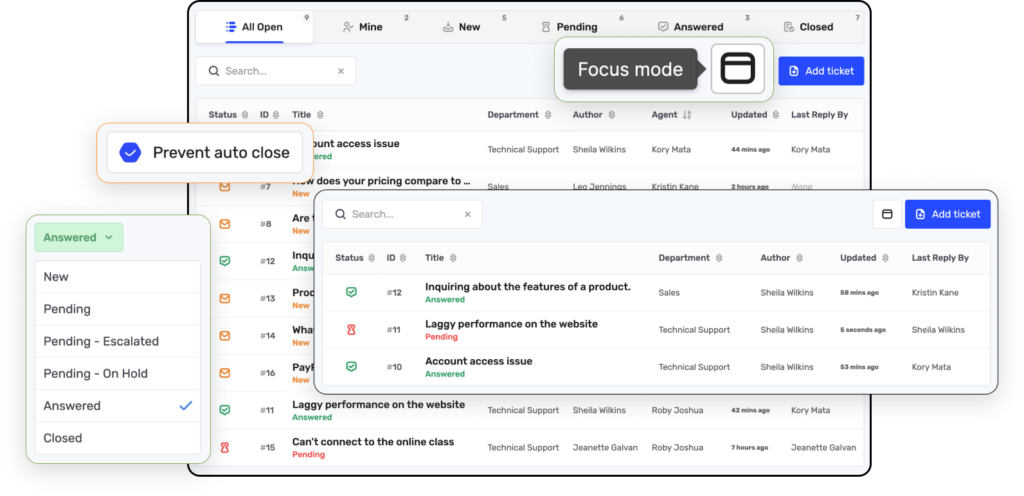 Yes, but is it Pretty?
We are aware that appearance means as much as functionality, and Almighty Support merges the two into a support platform you can be proud of.
Almighty Support will be updated with several visual enhancements in the very near future:
Ticket Filter already allows you to configure labels for each ticket filter, if you wish to make them look more appealing or product-related. Furthermore, in a future update Ticket Status settings will allow configuration of colors for each ticket status, both text and its background. These will be useful to customize to suit the color palette of your site, as well as provide better distinction between different statuses.
Interface Appearance itself will allow you to set either Light or Dark color scheme, to better match the theme of your site.
Support interface also features the Focus Mode – a toggle switch that stretches the support page across the entire screen and hides sidebars, widgets and other distractions. While this feature is available to all users, it can be especially useful for agents who require maximum focus.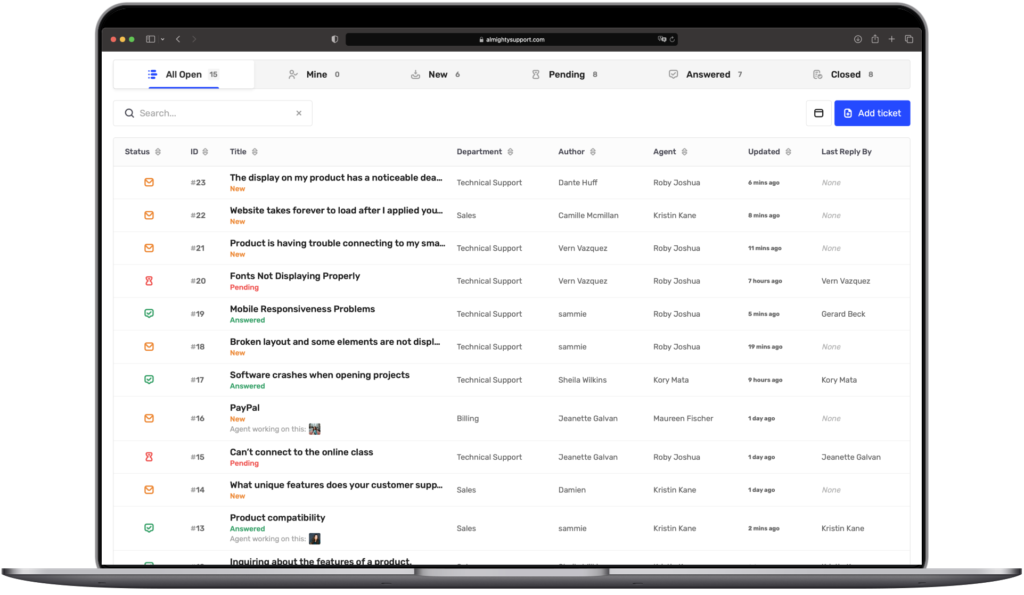 Empower your website and your business with the best support solution.